Air Conditioning Installation
Repair, service and installation in Atlanta
Your HVAC system plays an integral part in your home. If you do not have an HVAC system, you will have to heat and cool your home by other means. Using wood heat, small window air conditioners, or portable heat units can all leave you with a very expensive energy bill. If you have quality heating and air system that has been installed by a professional company, you will save money on your energy bills as well as have a comfortable home.
If you need a new system because you do not have one, or your old HVAC system needs to be replaced, do not hesitate to call Cool Pro. We will make sure that your AC installation goes smoothly. We offer affordable rates that will help with any budget.
No matter what size unit you need, we are here to ensure that it is installed properly and efficiently. We are a well-trusted HVAC company, and we work hard to satisfy all of our customers. Your HVAC system must be installed properly. If it is not installed properly, you could find yourself with high energy bills as well as constant repairs. We will install your unit properly, and ensure that it works as it should.
During the install, we will not just inspect the system itself. We will take a look at your air ducts to make sure that they are properly installed. Air ducts that are not properly installed can cause you to lose valuable heat or cool air. In addition to the ductwork, we will also check out the thermostat to ensure that it is working as it should. If it needs to be replaced, we will be able to do that for you.
Benefits of a New System?
If your system is over 10 years old, it is time to replace your system. Older systems will not work as efficiently as they should. They may also use R22 freon, which is no longer supported. There are many benefits to upgrading your system.
Energy-saving. By replacing your HVAC system, you can decrease your energy costs by at least 50%.

Comfort. A new heating and air conditioning system will help you to heat or cool your system more effectively. You will not have to deal with one room being too cold or too hot.

Increasing value. If you plan to resell your home any time soon, it is a good idea to upgrade your heating and air system. This adds value to your home, and it can entice new buyers to your home.

Improved health. If you have allergies or asthma, replacing your system can help to minimize issues with allergies as well as help to prevent mildew and mold. Over time, mold and mildew can build up in your ductwork. At Cool Pro, we can make sure that your ductwork system is in good shape, and free from any allergens. We will also make sure that all your filters work properly. Your filters are integral to the functionality of your system, so we will show you when you should clean them.
Tax deduction. In some cases, you may be able to qualify for a tax deduction when you decide to get an ac installation. This can help you to save money on your taxes.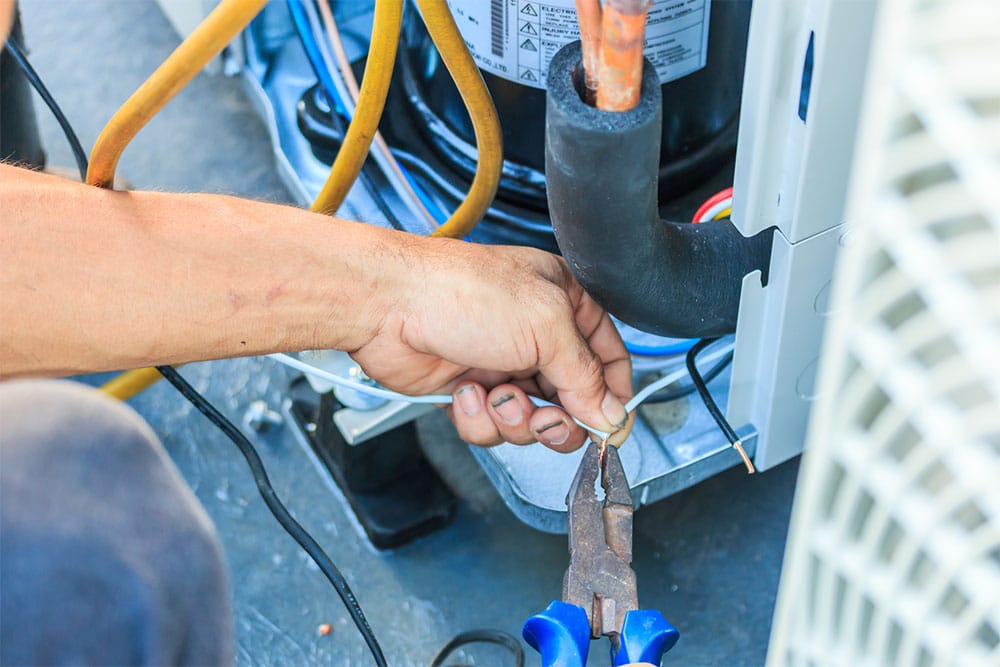 The Replacement/New Install Process
If you are interested in getting an air conditioning installation, please call our office here at Cool Pro. Once you have called us to make an appointment, one of our friendly service techs will show up promptly. They will be able to take a look at your entire system and do an energy audit. An energy audit will show you the ways that your old system uses too much energy. The tech will be able to show you exactly how much you will save. They will also be able to price the new installation for you so that you know how much you will need to budget for. In the long run, you will save a lot of money on your energy bills each month.
At Cool Pro, we strive to make customer satisfaction our number one priority. We understand the importance of having an HVAC system that will not only keep you comfortable but keep your wallet safe. All of our technicians are well experienced and certified. We make sure that we follow all the local and state codes in the world of HVAC. Call us today so that we can get started on a new air conditioning installation for you.
"We have been customers for three years and these guys are fantastic. 
we trust them

 They are responsive, fast, and have reasonable fees."

~ Clay Cheshire
Where we are
161 NE Austin Ave
Marietta, Georgia 30060