Turning AC On and Off vs Leaving It On
The summer is on its way and homeowners are relishing their long-awaited vacations full of warm weather activities that will take them away from home. While prepping your home for your vacation, it is important that you also think about how you will manage certain systems in your apartment or house while away. Don't forget to follow these summer maintenance tips for your air conditioner as well. Specifically, we will explore whether or not you should turn your central air conditioner on while you are out of the house in this post.
Controlling Central A/C While on Vacation
As we will discuss below, there are quite a few factors to take into consideration, including how long your vacation will be. However, it is on the whole critical to realize that if energy saving is your main concern, then complete turning off of the system will ensure that you achieve this goal. Nevertheless, the most recommended solution is to keep the thermostat up while away rather than turn it off. To understand why this is the case, please read on.
Length of Vacation
It's better to keep your air conditioner on, but set it to a higher temperature, if you're only going to be away for a short period of time, just a day or two. It is unnecessary and wasteful to cool an empty house at a temperature which you would feel comfortable at while at home. By leaving your central air conditioner on, you'll save energy and keep the level of humidity under control, even though it can be a little more difficult to return a hot house to a comfortable temperature.
This is where the use of a programmable thermostat will come in handy. In these neat little gadgets, you are able to set your desired temperature at different times during the day so that the device will turn on and off automatically. If you are going on vacation, just set the thermostat up between seven and ten degrees higher than usual. By closing your curtains when you leave your home, you'll save the air conditioner from having to work overtime when it's hot outside. Your home will remain cooler during the afternoon because the afternoon sun will be blocked.
As a rule of thumb, when you are going on a longer vacation and not going to be able to use the house for a week at a time, it is best to turn off the HVAC system to conserve energy. Using your programmable thermostat in this situation will allow you to begin the cooling process a day or two before you return home.
Please remember to consider the safety and comfort of any pets that may will be left in the home while you are away.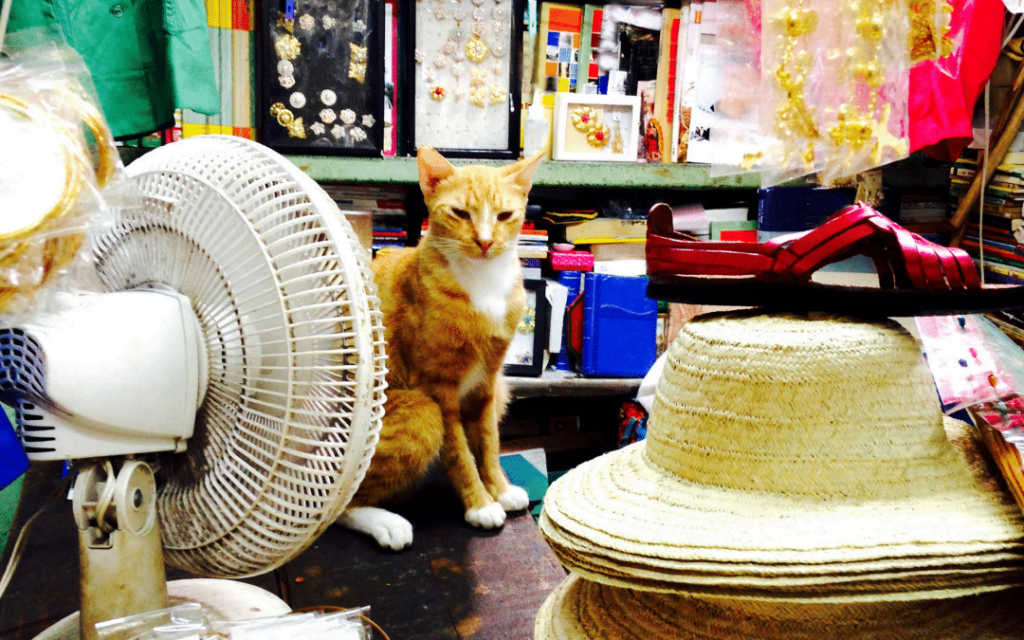 Other Factors to Consider
While the length of your getaway plays a large role in determining whether you should turn the air conditioning on or off while you're away, a few other factors will also be important.
Weather
You should check the local weather forecast for the period of time you will be away since the weather can affect the decision to turn on or off the air conditioner. As long as the weather will be relatively mild, it may be best to leave the air conditioner off since the risk of heat building up indoors is very low. In the event, however, that the forecast promises scorching temperatures, you might consider keeping the air conditioning on. It will also prevent the cooling appliances in your home from running overtime in order to make up for the high temperatures in your house. Additionally, pets left at home in houses that have a temperature higher than 80 degrees can experience discomfort due to the hot weather.
Air Conditioner Efficiency
Your home's overall energy efficiency will also help determine whether or not you should turn off your cooling system while you are away. It has been found that homes with adequate attic insulation, a low level of air infiltration, and efficient windows are more likely to resist heat build-up.
The addition of solar window films or thermal drapes can make inefficient windows more energy efficient. By minimizing the amount of air leaks inside your home, you can allow the temperature to remain cooler for a longer period of time. Check out these other ways to increase and improve Air Conditioning Efficiency. 
Protecting The Rest of Your Home
It is important to keep the air circulating in your home while you are away, as this will help the system to do one of its most important tasks, namely, keep the indoor humidity at a low level. As a result, moisture will retain heat, making your cooling system work harder to cool your house once you return.
Moreover, the extra moisture in the air can affect other features in the house, such as the wood floors, doors, and cabinets, which may be damaged by the moisture.
Additional Preparations for Vacation
Before you head out on vacation, here are a few helpful steps you can take to make the most of your trip. You will be able to save some energy by taking these measures, and also ensure the safety of your home when you're not there.
It is a good idea to turn off the main water supply
If you have an indoor/outdoor flower or plant that needs to be watered, ask a neighbor or landscaper to do so
If you have any pets at home, make sure that they have adequate food and water during the trip
Plan to have a friend or neighbor pick up your mail every day
Unplugging your electronics can help you save some energy
Use timers to light the rooms while you are away
When making your decision as to whether to turn your air conditioning on or off while away from home, take all the above things into consideration.
This will help you make the best choice based on your specific circumstances and requirements at the same time that you prepare for your vacation with a/c, your home's system, and all its systems.